The 2019 Ibrahim Governance Weekend is Here! Key Discussions on "African Migrations:  Youth, Jobs & Mobility" | April 5th – 7th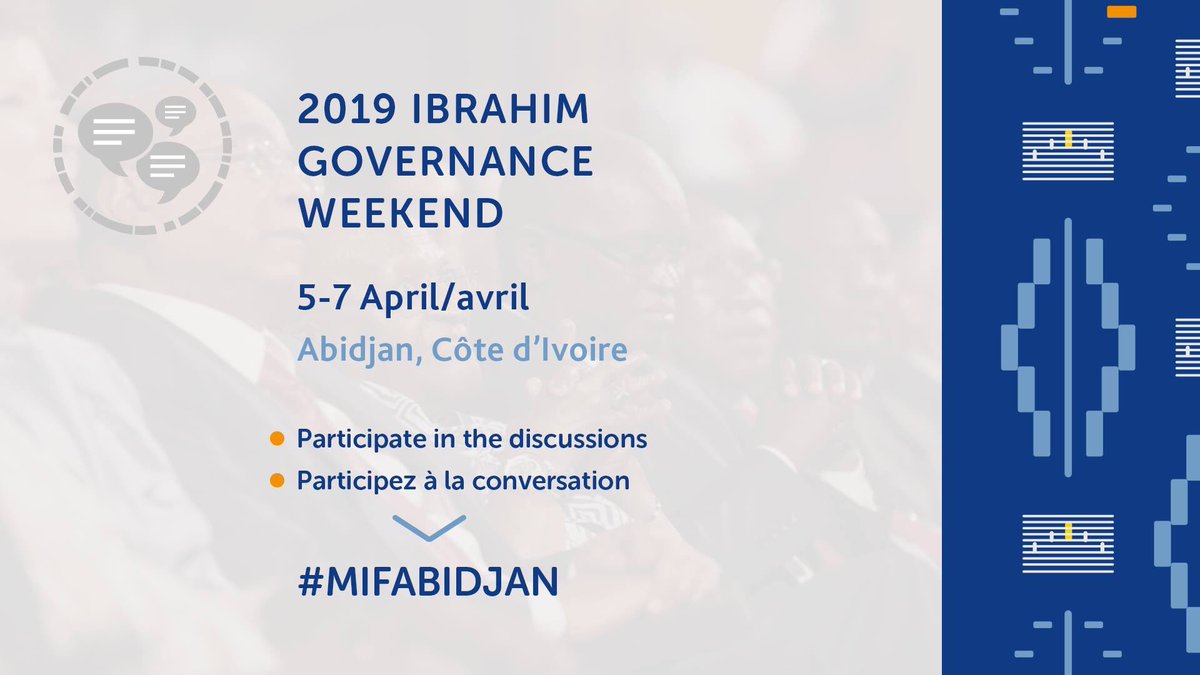 Hi BNers, IK Nwosu here!
BellaNaija is excited to be part of the 2019 Ibrahim Governance Weekend by the Mo Ibrahim Foundation which is devoted to the topic of African migrations.
You see, whenever the topic of "African Migrations" is mentioned, what comes to mind for most people is that it is fuelled by conflict and violence and/or climate hazards.
However, contrary to common perception, African migrations are mainly internal and driven by economic prospects. These flows are fuelled by lacking sustainable economic opportunities and employment prospects, in the only continent left where youth, already the overwhelming majority of the population, is still expanding.
IGW is the flagship event of the Mo Ibrahim Foundation, held every year in a different African country. This year, it is taking place in Abidjan, Côte d'Ivoire and you know how we do it: we'll be bringing you ALL the updates on our platforms.
It's my first time in Côte d'Ivoire and I am ready to contribute to the discussions and bring ideas and points for action back home.
This year's topic is particularly important because much of the focus is on Africa's youth population and the issue of migration that has been affecting several countries in the continent.
A lot of misconceptions exist around African migrations and the 2019 Forum Report titled "Africa's Youth: Jobs or Migration?" provides an exposé on some of them.
For example, it states that: "African migrants are not "overwhelming" the world nor Europe – The total number of African migrants in 2017 is 36.3 million. This is only about 14% of the global migrant population, much less than Asia's and Europe's shares (41% and 24%). The top ten 2017 migration flows from African countries represent less than the single migration flow from Mexico to the US only."
Only 20% of migrants are refugees and the remaining 80% are skilled or semi-skilled workers who end up contributing 85% of their incomes in their host country. Around 70% of sub-Saharan migrants stay within the continent, the report states, which may come as a shock to most people.
"Africa even hosts a growing part of the global migrant population in 2017, receiving 67% more migrants than in 2000, mainly from the continent," it adds.
The report also highlights the problem of unemployment and lack of skills and I'm looking forward to the discussions on how to tackle these issues and move forward as a continent.
The report advises that Africa needs to manage mobility, which is what migration really is about. Like it had earlier stated, the majority of African migrants are driven by economic prospects, and providing jobs for the youth (through agriculture and harnessing the positive potential impact of the kinds of skills the Fourth Industrial Revolution is bringing to the world), is one of the ways to make Africa grow.
As Africa focuses on economic growth, it should also look into the challenge of demographic growth, which studies predict will continue to remain ahead of the former.
The three-day event convenes prominent African political and business leaders, representatives from civil society, multilateral and regional institutions as well as Africa's major international partners to debate issues of critical importance to Africa.
The weekend begins with a Leadership Ceremony on April 5, 2019. This year, the foundation will celebrate the life of Kofi Annan, a former UN Secretary-General who passed last year.
Prior to the opening ceremony (on the same day), is the Now Generation Forum, for the youth to discuss key issues affecting them in relation to African migrations
A whole day – Saturday, April 6, 2019 – is then dedicated to the Ibrahim Forum, a high-level discussion forum that tackles the challenges facing Africa and sets out priorities for action.
Confirmed speakers include Akinwumi Adesina, Abdourahmane Cissé, Aliko Dangote, Hailemariam Desalegn, Oumar Seydi, Ellen Johnson Sirleaf, Alex Soros.
The weekend concludes with a public concert (YAY!) on Sunday, April 7, 2019, with performers Serge Beynaud, Safarel Obiang, Youssou N'Dour, Fally Ipupa.
Keep it locked on our social media pages Instagram – @bellanaijaonline; Twitter – @bellanaija and Facebook – facebook.com/bellanaija for updates about the event and also using the hashtags #MIFAbidjan, #AfricanMigrations and #BNAtMIFAbidjan to follow the conversation.