'We can be Whatever we Want! Our Purpose, Passion & Dreams are Valid'- #TeamBN LEAD Camp 2018
There's nothing more powerful than meeting a group of young girls who know what they want and believe they can achieve anything!
Hey, BellaNaijarians!
This is Obehi, and I'm part of BN's Business Development Team.
I had the privilege of mentoring some of the most intelligent and energetic young girls for two days: Monday, July 9th, and Thursday, July 12th, at the Junior Achievement Nigeria (JAN) LEAD (Leadership, Empowerment, Achievement and Development) Camp 2018. It's definitely going to be one of the highlights of my year.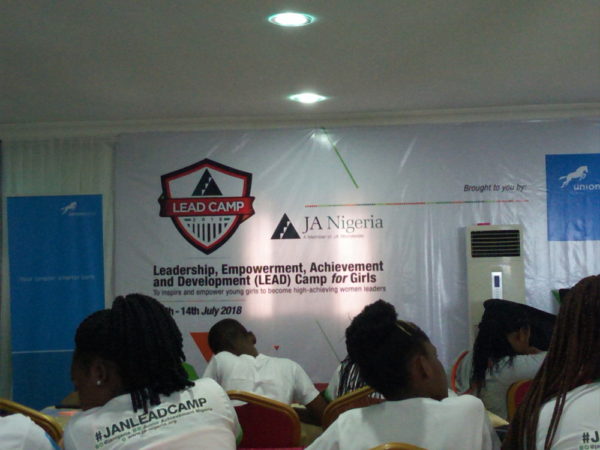 I was one of the media mentors assigned to help guide the girls in their media project: to craft their message and think about how they can present it on various online platforms.
Also present as media mentors were Adenike Oyetunde, Omalicha of Rhythm FM Radio, Olive Emodi, The Delphinator.
LEAD Camp, founded by Simi Sanni Nwogugu, inspires and empowers young girls to become leaders in the society through this yearly program organised by JAN, a non-profit subsidiary of the Junior Achievement Worldwide (JAWW).
We started off by visualizing the girls like they were our fifteen-year-old selves; it felt like travelling through a capsule to way back in time. But it was refreshing to inspire a room of young ladies while witnessing the passion, purpose, hope, and excitement in their hearts about the future.
The girls were instructed to come up with a media project, which would be published on different media platforms. They were consequently divided into different groups to achieve this project.
I had on my team Maranatha Greene, Munirat Nasiru, Stephine Banigo, Rejoice Assan, and Gift Uzor- #TeamBN.
To get the girls comfortable, we shared what our hobbies were and envisioned our future. Though the girls had a fairly adequate knowledge of the happenings in the country, they were nonetheless positive about possibilities of a new Nigeria that would show support for the creativity and dreams of the Nigeria child. Personally, I had imagined they would attempt to center their media project on "The Girl Child" but they felt it was a topic that had sufficient attention. With a lot of associations advocating against gender discrimination, they wanted to engage another angle.
The girls decided they would write about the 'Nigerian Child' and how they can be whatever they set their hearts to be; they thought it would inspire anyone who gets to read it. 'Miss Obehi, Nigeria is green, our land is fertile, this country is filled with lots of creative people'. These were the reassuring words echoed by the girls that I too have carried in my heart.
Having decided on our project approach, we got down to work! Amazingly, this project revealed that the larger number of the girls love to write. I asked them to individually put their thoughts on paper and then we would put everything together for publication. They affirmed my suggestion of making videos to drive home the message from our project.
Say hello to #TeamBN
And the girls came up with this beautiful write up for their project
In the heart of the Nigerian child hope is found despite the challenges we get to face and it seems like our creativity is being shrunken by our environment, still will rise.

My name is Maranatha Greene and I am a Nigerian child, a child of this land! I will build my home and liberate her. I will seek her peace.

As a writer, I will write for the benefit of my motherland and as a public speaker, the world will come to know of the good in Nigeria. As a doctor, I will make sure we have the right facilities in the health sector

I love Nigeria, my motherland.
Nigeria, a land of diversity, fertile soil, wonderful weather climate, uncountable mineral resources; a very rich land indeed. Although we have this much, there is still poverty lurking around and children dying of hunger. These children would have been world changers if only given the chance to live, if only they were provided for. The numerous killings happening in country leading to the death of families consist of children and this breaks my heart daily

But do you know this can stop? It begins with you and I. Imagine having to start up a business no matter how little, where you can channel your energy and passion? Imagine having to employ other people to work with you thereby contributing to the growth of the nation?

You can be anything, if only you set your heart to it and work towards it!

My name is Rejoice Assan and I am a Nigerian child and I love space and I love the stars; I want to be an astronaut and paint my country in the sky.

Together we can.

A Nigerian child has vision, dream and goal, but when not properly nurtured it can die. We cannot allow the dreams of the Nigerian child wallow and drown in our Nation.

My name is Stephine Banigo and I am a Nigerian child and I want to stand shoulder high with the rest of the world because I can. I want to be a pilot because I love planes and I would love to make my country proud.

I love my country and I pray my country. When I see the passion, dreams and potential of the Nigerian child, it makes me want to strive even more to be a better person. But I cannot overlook that some children are deprived of their right to life, movement and the very basic things in life, and some even get killed!

I watch movies about Nigerians, and I have seen how determined we are as a people, we are survivors! The Nigerian child is full of strength, power and potential but when it isn't nurtured, what then becomes of the child?

My name is Gift Uzor and I am a Nigerian Child. I want to be a accountant because I can be anything I choose to. I live by truth, integrity and hard work and I believe that there is much more I can offer in the banking sector to make it credible.
I live in a house of creative and talented people and we are all Nigerians. Imagine how much we can change our nation together as a people and it begins with us as individuals. I love my country and I am proud of my country. I see hope in Nigeria, and we can create the Nigeria we want.

My name is Munirat Nasiru and I am a Nigerian child and the fashion industry awaits me. I would love to give people hope and beauty just by creating designs that will gladden their hearts. I want to spread positivity through my craft; I want to be a fashion designer/illustrator.
We can be whatever we want, our purpose, passion and dreams are valid, together we can make Nigeria great!

#JANLEADCamp 2018