BellaNaijaWeddings Website Launch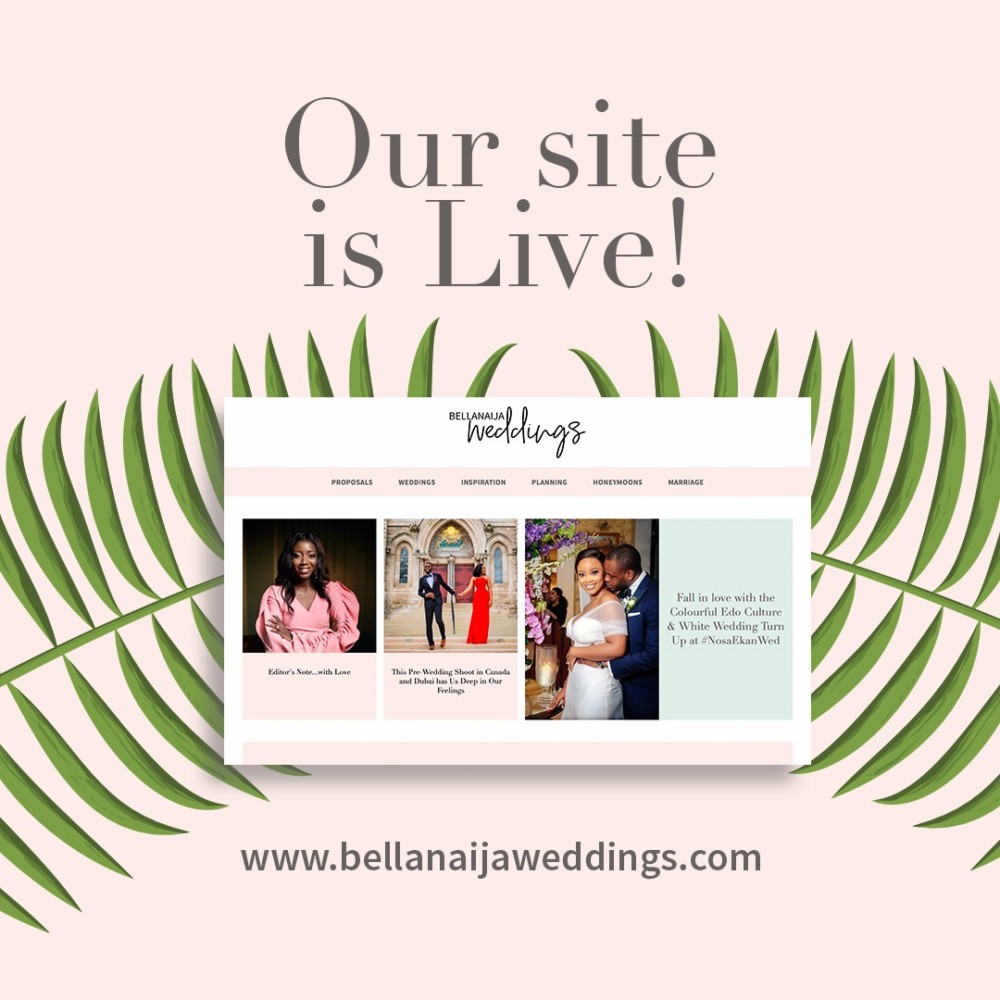 It is such a big day for all of us at Team BN!
Every time we are about to launch a new platform, the office is buzzing in excitement and today is no different. It is all hands on deck, as we dot our "i's" and cross our "t's" in anticipation for the moment when we go LIVE! Surrounded by such a dedicated team with a "make it happen" attitude and loyal BNers, we are so grateful for the BellaNaija journey – the past, the present and the future!
12 years after the very first wedding feature was published on BellaNaija, Africa's No 1 Media Tech company, we are launching – www.bellanaijaweddings.com
In 2006, the idea was simple – How do we celebrate the beauty of the Nigerian culture through our weddings? Expanding our experience of these glamorous moments beyond pages to capture the hearts of the culturally curious, the vicarious dreamers and the planner in every bride and groom-to-be. This idea eventually became the #1 authority on all things African weddings. With a footprint of over 4 million and 200 million combined monthly impressions across platforms, BellaNaija Weddings is one of the fastest growing media tech wedding publishers in the world.
BellaNaija Weddings has been front and centre of the weddings space in Africa for over a decade thanks to BN Brides, Grooms, Vendors, and BellaNaijarians who made BellaNaija Weddings their home for awe inspiring wedding content.
Today, the entire BN Weddings squad invites you to www.bellanaijaweddings.com
Get ready to be blown, whisked and chauffeured away to wedding wonderland where we curate the most comprehensive and inspirational wedding content. www.bellanaijaweddings.com is where you'll find real life wedding experiences that showcase creativity, love, and beauty in all its splendour, the best vendors in the continent, wedding planning tips and tricks, and the latest in wedding style and beauty trends. We connect brides, grooms-to-be, wedding enthusiasts and beauty seekers to a world where dreams imagined become dreams fulfilled.
At BellaNaija Weddings, we follow our readers on their journey from falling in love, to the fairytale proposal, pre-celebrations, the big day and to the forever love after. We are your trusted resource for everything weddings!
www.bellanaijaweddings.com – the journey begins here.